East Library will be closed Wednesday, April 22 - Sunday, April 26 for renovations. Available holds can be picked up at Library 21c during that time.
Find a Good Book
---
Read and share book reviews with Goodreads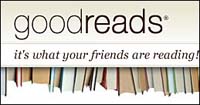 You can join Pikes Peak Library District's Goodreads group to find out what PPLD patrons and staff are reading and share your own reading selections! You can read and post book reviews, join discussions, and discover upcoming literary events in this free and fun online group.
Click here for detailed instructions on how to create an account, join our group, and add books to our shelf.
Click here to visit PPLD's Goodreads group.
---